My Blog
Posts for: July, 2014
By David E. Habecker DDS
July 23, 2014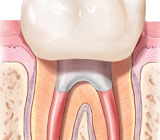 According to popular culture, a root canal treatment is one of life's most painful experiences. But popular culture is wrong — this common treatment doesn't cause pain, it relieves it. Knowing the facts will help alleviate any anxiety you may feel if you're scheduled to undergo the procedure.
A root canal treatment addresses a serious problem involving the pulp of a tooth that has become infected. The pulp is a system of blood vessels, nerves and connective tissues inside the tooth that helps the tooth maintain its vitality. It also contains a series of minute passageways known as root canals that interconnect with the body's nervous system.
The pulp may become infected for a number of reasons: tooth decay, gum disease, repetitive dental procedures, or traumatic tooth damage. Once the pulp becomes irreversibly damaged it must be completely removed from the tooth and the root canals filled and sealed in order to save the tooth.
We begin the procedure by numbing the affected tooth and surrounding tissues with local anesthesia and placing a dental dam (a thin sheet of rubber or vinyl) over the area to isolate the tooth and prevent the spread of infection to other oral tissues. We then drill a small hole in the top of the tooth to access the pulp chamber. Using special instruments, we then remove the infected or dead pulp tissue through the access hole and then wash and cleanse the root canals and pulp chamber with antiseptic and antibacterial solutions.
After additional preparation, we fill the root canals and pulp chamber with a filling especially designed for this kind of treatment, usually a rubber-like substance called gutta-percha that easily molds and compresses when heated. We then seal the access hole with a temporary filling (until a permanent crown can be fashioned) to prevent infection from reentering the pulp space. After the procedure, you may experience some minor discomfort easily managed with over-the-counter pain relievers.
You'll find the root canal treatment alleviates the symptoms prompted by the pulp infection, particularly acute pain. What's more, a successful root canal will have achieved something even more crucial to your health — it will give your tooth a second chance at survival.
If you would like more information on root canal treatment, please contact us or schedule an appointment for a consultation. You can also learn more about this topic by reading the Dear Doctor magazine article "A step-By-Step Guide to Root Canal Treatment."
By David E. Habecker DDS
July 15, 2014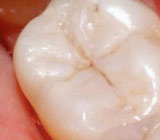 Q: I've never heard these terms used in dentistry. What are they?
A: In the decorative arts, an inlay refers to a small piece of distinctive material that's set into a larger matrix: a mother of pearl accent worked into the lid of a wooden box, for example. In dentistry, it means something similar: a filling (or restoration) that's fabricated in a dental laboratory, and then set into a tooth in an area that has been damaged or lost.
Q: What's the difference between inlays and onlays?
A: An inlay is made to fit in between the cusps (small points or ridges) of a back tooth (molar or premolar), and it covers only a small region of the biting surface of the tooth. If the restoration covers one or more of the cusps, it's an onlay.
Q: Why would I need to have one of these restorations?
A: When a tooth has suffered damage (from decay or trauma, for example), and the affected area is too large to fill with a simple filling — but not large enough to need a full crown (cap) — then an inlay or onlay may be just right. Both of these procedures are considered "indirect fillings," because the restoration itself is custom-fabricated in a laboratory and then bonded to the tooth in the dental office.
Q: What is the procedure for getting an inlay or onlay?
A: It's similar to having a crown placed, in that it typically takes more than one office visit — yet an inlay or onlay involves less removal of tooth structure than a crown would require. On the first visit, after the area has been anesthetized (usually with a numbing shot), any decay is removed, and the tooth is shaped to receive the restoration. Next, a model of the tooth is made (either with putty or in digital form), and the tooth receives a temporary filling. The laboratory uses this model to create the actual inlay or onlay, which may take a few days; it is then permanently attached to the tooth on a second visit to the office. However, with today's advances in CAD/CAM (computer aided design/ manufacturing) technology, some inlays or onlays can be made in the office and placed in the same visit.
Q: What else do I need to know about these tooth restorations?
A: Both inlays and onlays are strong and long-lasting restorations that need no more care than you would normally give your teeth: namely, regular brushing and flossing, and periodic checkups at our office. But because they don't require the removal of a great deal of natural tooth material, they are considered relatively conservative treatments. After a thorough dental examination, we can recommend the type of tooth restoration that's most appropriate in your individual circumstances.
If you'd like to find out more about inlays or onlays, please contact us or schedule an appointment for a consultation. You can also read the Dear Doctor magazine articles "Porcelain Crowns & Veneers" and "The Natural Beauty of Tooth Colored Fillings."