My Blog
Posts for tag: dental crowns
By David E. Habecker DDS
April 25, 2014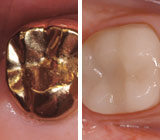 A "crown" or a "cap" is the term used to restore a decayed or broken tooth that needs to be completely encased to protect the tooth beneath it. A crown's dual purpose is to restore the tooth's form and function. Decades ago gold was the material of choice for a crown. What we ultimately choose depends on a particular crown's requirements with regard to the tooth's appearance and function, and to some extent what you want.
Gold: Gold crowns last the longest and wear the best (at about the same rate as natural teeth), but they are not used as frequently today, especially if they are visible in a person's smile. Gold crowns are made of cast gold, a technique that has been in use for over a hundred years. They can last for decades, and have been known to last 50 years or more. They tend to cost less per tooth than porcelain or other materials.
All-Porcelain: "All porcelain" crowns have a natural appearance and as technology improves they are gaining popularity. Dental porcelains are composed of ceramic substances that are variations of glass. This gives them their translucent, lifelike appearance — but it makes them brittle and subject to fracture. Therefore all-porcelain crowns may not be a good choice for back teeth because they frequently fail under the biting forces applied during chewing and especially adverse habits like tooth clenching or grinding. Porcelain crowns are made of material that doesn't wear. Consequently, it can cause excessive wear to the teeth they bite against.
Porcelain-Fused-to-Metal (PFM): PFM crowns have been in use for more than 40 years. They combine a substructure of gold or platinum for strength and have porcelain "facings" for the visible surfaces. In some ways they combine the best of both worlds, but they do have some problems; the metal can show through the porcelain, detracting from its life-like appearance. These crowns can have a functional lifespan of about 20 years or more.
New and Future Materials: Newer "pressed-ceramic" restorations and computer-milled ceramics have received good reviews for aesthetics and service. These new materials are being intensively researched. Initial results look good, but we'll have to see how they last over time.
Contact us today to schedule an appointment or to discuss your questions about crowns and other dental restorations. You can also learn more by reading the Dear Doctor magazine article "Gold or Porcelain Crowns?"
By David E. Habecker DDS
February 13, 2014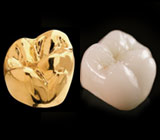 Gold is more than a financial commodity or a symbol of wealth — it's one of the best materials for restoring damaged tooth crowns, the visible portion above the gum line. It's extremely durable and can last for several decades if properly maintained. It also causes minimal wear to adjacent teeth.
But as new, more life-like materials have come into prominence, gold restorations have diminished in popularity. Dental porcelain in particular, a type of fired ceramic glass that mimics the look and color of teeth, has increased in popularity for use in highly visible areas.
But unlike gold, all porcelain crowns lack strength, tend to be more brittle and can abrade other teeth during biting and chewing. If they break, they can shatter beyond repair. All porcelain crowns are improving dramatically as newer space age materials become available. Historically, though, they are thought of as more unpredictable when used for back teeth; the greater biting forces make them more susceptible to failure than with front teeth.
A Porcelain-Fused-To-Metal (PFM) crown is a hybrid of these two materials that seeks to impart the strengths of both — the aesthetic appeal of porcelain and the durability of gold or platinum. But a PFM crown also has drawbacks: the porcelain surface may still abrade opposing teeth; they can lose their aesthetic appeal if the metal collar becomes visible if gum tissues recede; and they can fail if the porcelain fractures or separates from the metal.
To address some of porcelain's weaknesses, some PFM variations reduce the amount of porcelain by placing it only on the visible side of a cast gold crown. In addition, other porcelain materials are now coming into use that may be more durable yet just as life-like.
Choosing which material to use for a crown depends on many factors: cost, the location of the crown, and, of course, the patient's desires for the resulting smile appearance. It all begins with a comprehensive exam: from there, we can advise you on your options and help you make a choice — gold, porcelain or something in between — that's durable and pleasing to the eye.
If you would like more information on your options regarding dental crowns, please contact us or schedule an appointment for a consultation. You can also learn more about this topic by reading the Dear Doctor magazine article "Gold or Porcelain Crowns?"
By David E. Habecker DDS
April 28, 2012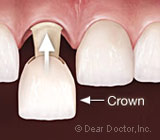 Creating a dental crown that looks good and wears well is not an easy achievement. It is the result of good communication you, the patient, have with us, your dental professionals, and that we have with the dental lab that manufactures the crown. In addition, it reflects the quality of work done by us and by the lab technician.
What is a dental crown?
A crown is a dental restoration that surrounds the remains of a damaged tooth or is attached to a dental implant so that it resembles a natural tooth as it extends above the gum line. The choice of materials and appearance of the crown depend upon many factors. One is the location of the crown. If it is in the back part of your jaw, strength and wear will be a major factor. If it is in the front, a life-like appearance will be important.
What goes into making a good-looking and functional crown?
Options for crown materials include porcelain, gold, porcelain fused to metal (called PFM) and some newer materials such as "pressed-ceramic" restorations and computer-milled-ceramics.
You as the patient can have a say in choosing the crown's color and appearance. Before it is cemented into its final position, make sure you are happy with the feel and appearance of your new crown.
Gold is often chosen for crowns on back teeth because of its superior wear qualities. Gold crowns have been known to last more than 50 years. They also cause minimal wear to the teeth that they touch on the opposing jaw.
Crowns made of porcelain (a glass-like substance fired in an oven at a high temperature) look good but may be too brittle to stand the wear and forces given to back teeth. Like glass, they can fracture under pressure. But because of their lifelike appearance they make a good choice for visible front teeth.
PFM (porcelain-fused-to-metal crowns) are a good combination of the best of gold and porcelain, but they sometimes lose the stains applied to make them look natural, and occasionally they fracture away from the metal.
A provisional crown can help you make sure you are getting a crown with the qualities you want. With the provisional crown all the details are worked out ahead of time, and you get a chance to try them out to make sure the crown looks good and that you can eat and talk normally. After you give your approval on the provisional crown, the final crown will be made to match it, in longer-lasting and better quality components.
Contact us today to schedule an appointment to discuss your questions about crowns and other dental restorations. You can also learn more by reading the Dear Doctor magazine article "Gold or Porcelain Crowns."