My Blog
Posts for tag: oral cancer
By David E. Habecker DDS
June 02, 2014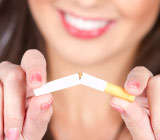 Oral cancer is not as uncommon as people think. In 2008 an estimated 34,000 cancers of the mouth and throat were diagnosed. In order to minimize your risk of developing oral cancer, be aware of habits that increase your risk.
Risk Factors for Oral Cancer include:
Use of smoking or chewing tobacco: Tobacco smokers have 5-9 times greater risk of developing this cancer than non-users; snuff and chewing tobacco users have a four times greater risk than non-users.
Excessive use of alcohol: Moderate to heavy drinkers at are 3-9 times greater risk than non-drinkers.
Exposure to sun: Chronic sun exposure is associated with development of lip cancers.
Certain viral infections such as the human papilloma virus that can cause cervical cancer in women can also cause oral cancer.
Compromised immune (resistance) systems that are not functioning properly can be associated with cancers.
Poor nutrition including diets low in fruits and vegetables can increase risk for all cancers including oral cancer.
Family history: People carry a predisposition in their DNA (the genetic material they inherited from their parents) for developing cancer.
Oral Cancers Can Mimic Harmless Sores
Early signs of oral cancer can mimic harmless sores that occur in the mouth such as canker sores, minor infections, or irritations that occur from biting or eating certain foods. Cancers in the lip area can easily be mistaken for harmless sores.
Early Detection is Key
It is important to have regular oral examinations to detect signs of oral cancer. Although 90 percent of oral cancers occur in people who are over 40, it is becoming more prevalent in younger people, particularly those who adopt risky behaviors: smoking, drinking and oral sex.
If you notice any unusual lesions (sores or ulcers), or color changes (white or red patches), anywhere in your mouth that do not heal within two to three weeks, come and see us and have it examined immediately.
Definitive diagnosis may require a small biopsy, the microscopic examination of a piece of tissue from the affected area.
It is important not to let a suspicious sore go unchecked. If detected and treated early, while a lesion or growth is small, survival rates can exceed 80 percent. Contact us today to schedule an appointment to discuss your questions about oral cancer. You can also learn more by reading the Dear Doctor magazine article "Oral Cancer."
By David E. Habecker DDS
February 15, 2013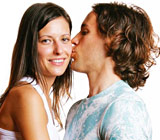 Often perceived as a cancer that only affects older adults who have a history of heavy tobacco and alcohol use, oral cancer is now on the rise among younger adults as well. New research has found a link between oral cancers, and the Human Papilloma Virus (HPV), a disease that is primarily spread through oral sex.
Importance of Screening: If you're concerned about oral cancer, rest assured that our office routinely carries out a cancer screening exam on every patient. We have several ways to painlessly detect abnormal tissues in their earliest stages. In addition, please contact our office if you experience any of the following signs or symptoms:
White and/or red patches in the mouth or on the lips
A bleeding or ulcerated sore in the mouth
A sore anywhere in your mouth that doesn't heal
Persistent difficulty swallowing, chewing, speaking, or moving your jaw or tongue
Although all of these symptoms can also be signs of less serious problems, be sure to alert our office if you notice any of the above changes.
Prevention: you can take a proactive role in preventing oral cancer by:
Conducting an oral self-exam at least once a month. Use a bright light and a mirror, look and feel your lips and front of your gums, the roof of your mouth, and the lining of your cheeks.
Scheduling regular exams in our office. The American Cancer Society recommends oral cancer screening exams every three years for people over age 20 and annually for those over age 40.
Refraining from smoking or using any tobacco products and drinking alcohol only in moderation.
Eating a well balanced diet.
Practicing safe sex.
Contact us today to schedule an appointment to discuss any questions you may have regarding oral cancer. Read more about this topic in the Dear Doctor magazine article "Risk Factors for Oral Cancer."