My Blog
Posts for tag: smoking
By David E. Habecker DDS
April 13, 2015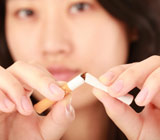 Even after decades of health warnings, approximately 45 million Americans smoke cigarettes. Although three-quarters will attempt to quit at some time in their life, most won't be successful because smoking is both pleasurable and highly addictive.
Still, it's in your best health interest to quit, and not just for your general health. Besides bad breath, reduced taste perception and dry mouth, smokers also face higher risk for tooth decay and periodontal (gum) disease.
Quitting is difficult because of the addictive nature of nicotine, one of tobacco's main ingredients. Nicotine causes the brain to release dopamine, a chemical that regulates our sense of pleasure and reward. In time, this effect transcends the physical sensation — smokers soon rearrange their social, work and family life to accommodate it. For those attempting to quit, the physical and emotional effects of withdrawal are daunting.
Yet, there are a number of effective quitting strategies. Smoking is a behavior you've learned and reinforced over time that you must now "unlearn." You should begin by analyzing your own particular smoking habit — when you smoke, what prompts you to smoke, what activities do you associate with smoking, etc.
Most people will find an abrupt halt to cigarette smoking all but impossible. Instead, gradually reduce the number of cigarettes you smoke each day over several weeks; a weekly 20% reduction over the previous week is a good norm. As you reduce to just a few cigarettes, you'll be forced to choose when to smoke those "precious" few. You can also use "brand fading," in which you switch week by week to brands with increasingly lower amounts of nicotine.
You should also attempt to replace the smoking habit with more positive habits. Keep your hands busy holding items like pencils, straws or stress balls. Snack on healthy foods, chew sugarless gum with Xylitol, and drink plenty of water. You might also join a support group of other smokers trying to quit so you don't have to face the habit alone.
It may take several weeks to break the smoking habit. The results, though, are worth it — you may extend not only your life but the life of your teeth too.
If you would like more information on how to stop smoking, please contact us or schedule an appointment for a consultation. You can also learn more about this topic by reading the Dear Doctor magazine article "Strategies to Stop Smoking."
By David E. Habecker DDS
August 29, 2014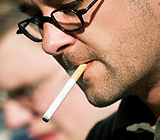 In a recent study, 92% of dental implants were found to have survived the twenty-year mark — an impressive track record for any dental restoration.
Still, implants do fail, although rarely. Of those failures, tobacco smokers experience them twice as often as non-smokers. The incidence of early failure (within the first few months after implantation) is even higher for smokers.
Early implant failure typically happens because the titanium implant and the surrounding bone fail to integrate properly. Titanium has a natural affinity with bone — the surrounding bone will attach and grow to the titanium in the weeks after surgery, forming a strong bond. An infection around the implant site, however, can inhibit this integration and result in a weaker attachment between bone and implant. This weakness increases the chance the implant will be lost once it encounters the normal biting forces in the mouth.
Smokers have a higher risk of this kind of infection because of the way tobacco smoke alters the environment of the mouth. Inhaled smoke burns the mouth's top skin layers and creates a thick layer of skin called keratosis in its place. Smoke also damages salivary glands so that they don't produce enough saliva to neutralize the acid from food that's left in the mouth after eating. This creates an environment conducive to the growth of infection-causing bacteria. At the same time, the nicotine in tobacco can constrict the mouth's blood vessels inhibiting blood flow. The body's abilities to heal and fight infection are adversely affected by this reduced blood flow.
The best way for a smoker to reduce this early failure risk is to quit smoking altogether a few weeks before you undergo implant surgery. If you're unable to quit, then you should stop smoking a week before your implant surgery and continue to abstain from smoking for two weeks after. It's also important for you to maintain good brushing and flossing habits, and semi-annual dental cleanings and checkups.
Although smoking only slightly raises the chances of implant failure, the habit should be factored into your decision to undergo implant surgery. Quitting smoking, on the other hand, can improve your chances of a successful outcome with your implants — and benefit your life and health as well.
If you would like more information on the effects of smoking on dental health, please contact us or schedule an appointment for a consultation.