My Blog
Posts for tag: teeth grinding
By David E. Habecker DDS
April 15, 2016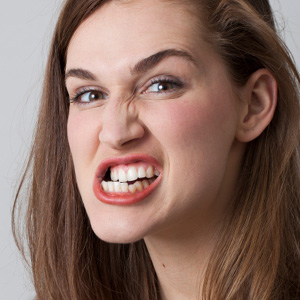 Modern life can be demanding. The body helps us rise to the occasion through responses we collectively call stress.
But while stress can be a good thing, it can also overwhelm us and manifest in some harmful way: bouts of back pain, stomach ulcers or even acne. It could also trigger tooth grinding, often occurring as we sleep. And like other stress relievers, tooth grinding can be detrimental to your health long term.
Teeth-on-teeth contact occurs normally when we eat or speak, or simply as our jaws contact each other with glancing touches hundreds if not thousands of times a day. Such normal contact is beneficial because it stimulates healthy bone growth in the jaw. But if the forces created exceed the normal range as with tooth grinding (up to ten times), it can cause a bevy of problems to the teeth and jaws.
While excessive jaw motion during teeth grinding can cause inflammation and painful spasms in the muscles, the greater danger is to the teeth, which could even fracture from the high amount of force. The more common occurrence, though, is an increased rate of enamel erosion, which causes the tooth to lose vital structure and eventually appear shorter in appearance.
Fortunately, there are ways to reduce teeth grinding or its severity. The first order of business is to treat its effects by reducing its symptoms and ongoing damage. We can recommend some behavior modification techniques to alter the frequency of the habit or a night guard to protect the teeth from the intensity of the habit if you're unable to change the behavior.
A custom-fitted night or occlusal guard, a retainer-like dental appliance made of smooth acrylic plastic is designed so that the lower teeth glide over the guard surface when grinding and can't make solid contact with the upper teeth. This reduces the generated force and helps protect the teeth.
In the long term, though, you should address the root cause — how you're handling daily stress. Treatment by a psychotherapist or counselor, for example, could help you develop ways to channel stress in more productive ways.
However your treatment strategy develops, it's important to address stress and teeth grinding as soon as possible. Controlling it will have long-term benefits for your teeth and smile.
If you would like more information on dealing with stress that causes tooth grinding, please contact us or schedule an appointment for a consultation. You can also learn more about this topic by reading the Dear Doctor magazine article "Stress & Tooth Habits."
By David E. Habecker DDS
September 06, 2013
Clenching, or grinding of your teeth (also known as bruxing) are common habits. Biting forces are normally small, gentle, fleeting and very frequent throughout the day. In fact, it's the normal stimulus necessary to keep your teeth and jawbone healthy. When you clench or grind your teeth you apply forces up to ten times normal (in the 200 lb range). And it's not just the force, it's the duration and frequency with which they're applied. High forces lasting for seconds or minutes, frequently exerted, can affect some or all of the masticatory system. This includes the teeth, jaws, jaw joints and muscles, causing aching jaws, headaches, earaches, neck and even backaches; and the teeth themselves causing excessive wear, fractures, or even loose teeth.
Why does grinding occur? Habitual grinding is most frequently a reaction to stress. Sometimes abnormalities in your bite or malocclusion ("mal" – bad; "occlusion" – bite) can trigger clenching or grinding. It is normal for children to sometimes grind their teeth when new teeth are coming in, but it may be indications of stress too. You may be grinding your teeth subconsciously in your sleep, but it may be so loud as to awaken your sleeping partner. Or our office may be the first to suspect it during a dental exam because of the apparent signs of change to muscles, joints and teeth especially abnormal tooth wear.
What can be done about teeth grinding or bruxing? If you are symptomatic, having pain, muscle, joint or tooth soreness, the first step is to get you comfortable. Generally, a mild non-steroidal anti-inflammatory medication (aspirin, ibuprofen) and muscle relaxants will help in addition to moist heat and mild jaw exercises. Stress management is also helpful. To prevent further damage, we may recommend a bite guard made of wear-resistant plastic that fits over the biting surfaces of your upper teeth. These customized unobtrusive appliances when properly fitted and adjusted stop clenching and grinding activity, or at least the damage they can do. A bite guard can be worn day or night especially during stressful periods.
Contact us today to schedule an appointment to discuss your questions about stress and tooth grinding. You can also learn more by reading the Dear Doctor magazine article "Stress & Tooth Habits."